This guided tour will be in French but is suitable for persons with an intermediate level in French. The speaker will translate when necessary to allow a complete understanding of this talk. This is a perfect way to practice your understanding skills in French.
CEZANNE - NTERMEDIATE LEVEL (A2/B1)
You are invited to an online talk.
How does it work?
1/ RSVP
2/ Receive a link the day before the visit.
3/ The visit lasts 1 hour and will of course be interactive. All your questions are welcome!

It's not that easy to embrace the impact Cézanne had on the history of Modern Art. He is even considered by many as the « father of Modern Art » (it is said that this is how Matisse or Picasso called him). He was part of Impressionism for a while but his style still stands out amongst the other artists. Quite soon Cézanne left Paris, which was back then the cultural center of France, and moved to the South of France, under the beautiful light of Aix-en-Provence. However Cézanne never parted from his friends: he kept on writing to them and exhibited alongside with them. His paintings just like theirs received a fire of criticism and sarcasm when exhibited to the public. When in 1874
he shows for the first time his Modern Olympia, reinterpretating Edouard Manet's work, a scandal bursts out. It's only the beginning.
Apples are everywhere in Cézanne's work. You will also find shapes which don't comply to any realistic aspects or also extremely strange perspective effects, which weirded out even his friends... In 1895 Gustave Geffroy, an art critic, writes that Cézanne is the « pioneer of an other art » : he does not know it yet but indeed Cézanne's experiments will open the path for artists such as Picasso or Kandinsky, to art movements like post-impressionism, cubism, expressionism... Nothing less.
Through a selection of artworks, let's dive with Ophélie Delacour into the artist's life and what he brought to the history of Art. By binding together his personal life, the historical context and his work, this online guided tour is suited for any knowledge level, from curious people to amateurs and professionals.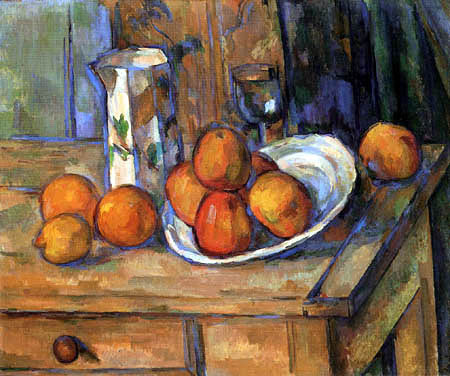 This talk is part of a cycle of 3 online talks:
Who is your guide?
Passionate about art and culture, Ophélie Delacour graduated in cultural mediation from Ecole du Louvre, in Paris. For a couple of years, she worked as a tour guide in Paris (Eiffel Tour, Latin District, Montmartre). In 2019, she came to Toronto to work for one year at Alliance Française Toronto and offered the first online guided tours during Covid-19. She is now back in France, working at the Hôtel Départemental des Expositions du Var, a museum in the South of France. That's from this beautiful area, which inspired so many artists, that she keeps on giving online tours in Toronto.
Register right here to participate in the talk!
Contact us by email at culturel@alliance-francaise.ca if you have any questions.